Thinking about how to change your color of name in Twitch? I will be covering this in this guide. Twitch is an online platform for viewing and broadcasting video games. The player can broadcast live streams of themselves playing video games, either solo or group.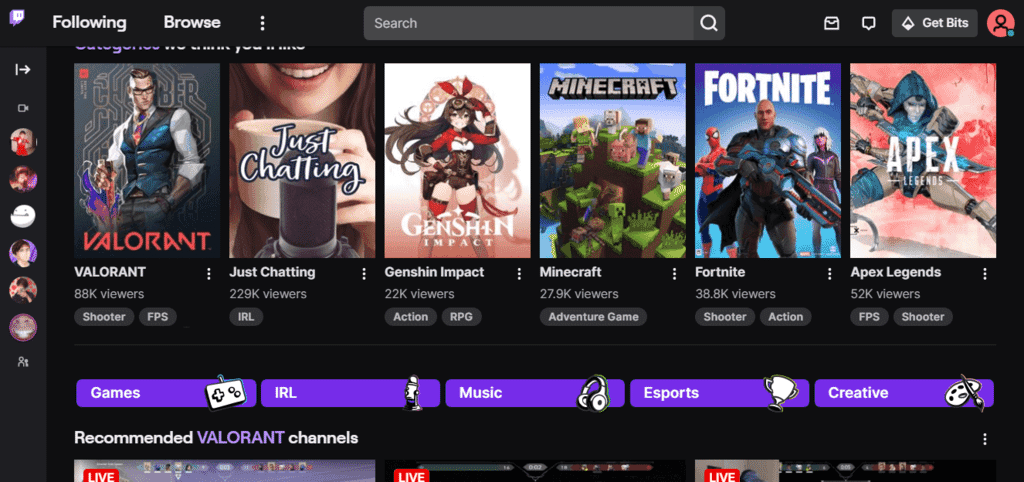 Twitch is an excellent platform for gamers to get feedback about their skills and tips to improve and connect with other players. However, the site still has many ways to go before it becomes everyone's favorite communication platform. It is the biggest streaming platform at the moment. If you haven't already used this platform then you should start using it. You can make good earning if you are into gaming.
How to change your twitch name color.
To change your twitch name color, you need to go to the settings page and select a new color. You can choose from various colors or use the hex code to create your own.
If you want to change your Twitch name color, the procedure is pretty simple. You just have to make some changes here and there. Doesn't matter if you are new to the platform. Just go through the tutorial and you will be able to make these changes. You need to go to your twitch profile settings. From there, you can customize a variety of different things, like your background, social media links, and your avatar.
There are basically two methods for changing color. The first step is to use commands with specified colors for the change name color. It is the fastest way to do so. Follow the steps below to do so.
Steps to change the username color
Regular Users
By regular user I mean if you don't have a turbo account then the following step is for you. When you sign up with discord you get a regular account. By paying a monthly or yearly subscriptions fee you get a turbo account.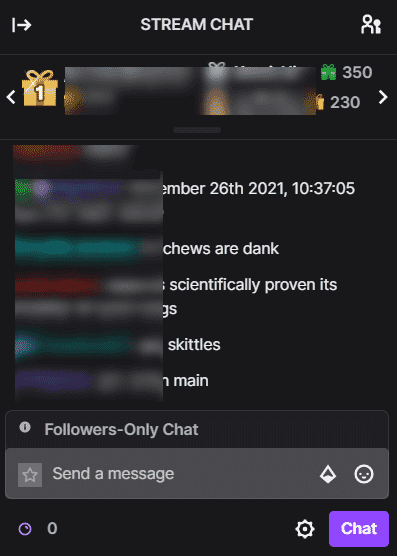 Open your Twitch account on a computer, not your phone or tablet. Once logged into your account on the website. Go to any channel or your own channel and then type /color [Your specified color name] in the chat field. Where you see the send a message text.

You will see a popup with the name of colors that you can choose from. There are at least 15 different colors available. You can choose from hex code but for that, you should have a turbo account. If you have a turbo account then you can use the hex code with the color command. You can see the following screenshot for different color combinations.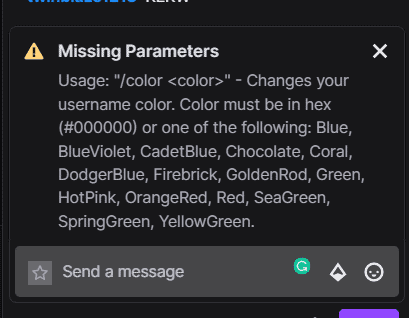 After you have selected the color through command. Type something in the chats. But you have to wait for a couple of minutes for the changes to show. If you don't see your desired color and some other color. Then it is because of the readability feature. Click on the setting icon next to the chat button.
But remember if you want any dark color then your name cannot be read easily. In that case, either use readable color or go for the color provided by twitch.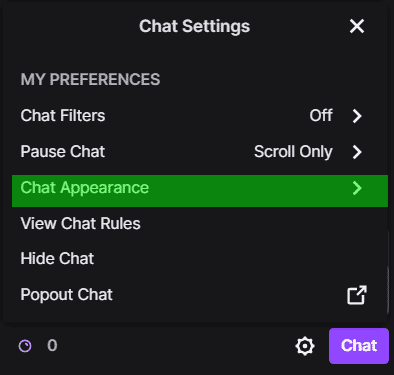 It will open the chat settings options. In there see the chat appearance option and click on it as shown in the image above. You can change the readable color settings and type again in the chats. Now you will see your color. In this setting, you can change font size and many more settings related to chat.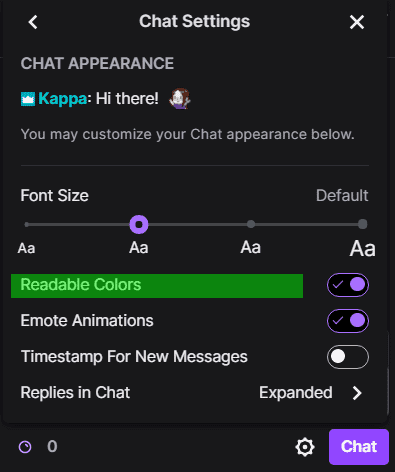 Turbo Users
By being a paid member you get some more features. You can change your Twitch username color in two ways. If you are a turbo user then you can use the above method too. Because using command is the fastest way. Just follow the steps below and you are good to go.
Click the drop-down menu next to your username in the top-right corner of the screen.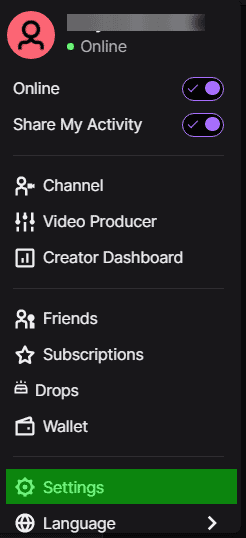 On the settings page, you see twitch turbo click on it. After that, you can see lots of colors. If you want any specific color then use the hex code of the color. For that, you can take help from different charts and color wheels. Again do some chat and check it for yourself.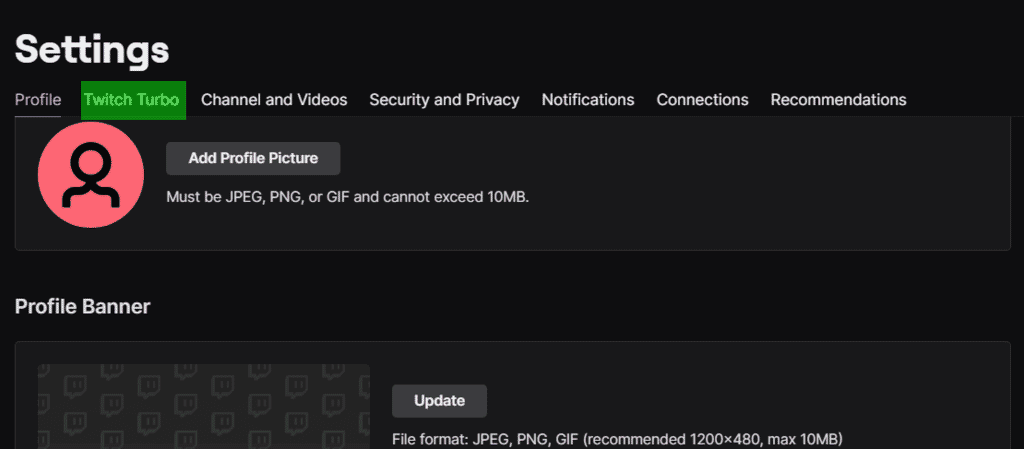 Why should you change your name color ?
Use Twitch Name Color to create a unique and personalized look for your Channel.
Make your Channel stand out from the rest with this easy
If you have personal logo color or website than you set your brand color.
No additional software downloads are required
Works with all devices
If you are serious about streaming on twitch and growing your fanbase. Then you can invest a little to get these features. But changing the color of your name is not enough to stand out. You should customize your channel and make it your own by using different backgrounds, logos, etc. Just look at big streamers and how their channel looks and get some inspiration. Again if you have a website then you use those color schemes and make your twitch platform look like it.
The other reason for using turbo is there is a limited number of colors provided by twitch. If you are in any chat there might be hundreds of folks chatting simultaneously. So all those colors are probably used by all of them. In that case, the turbo can help you get unique colors.
Conclusion
Hope this article helped you with changing the color of the twitch username. If you haven't tried these methods then do try it. This small feature can do a lot for your channel. Even with a regular account, you give a new look to your channel. And you can do several things to spice up your channel. If you have some more questions related to this topic then drop them down in the comments.
Also, Read: