Discord is an application mainly used by gamers as it includes lots of features that enhance their gaming experience. One of the features of Discord is the capability to run in a full-screen mode that allows users to enjoy games on their system more comfortably without being disturbed by any other application on the display. A lot of users are still not using this cool feature
Due to its popularity, it has now become widely used by many users, and they can access Discord directly from their web browser as well. If you are a gamer or other enthusiast, you may have discovered that not all of the application windows will always fit on your monitor. Here's how to get the most out of your screen. This article is all about the same topic.
What is Discord?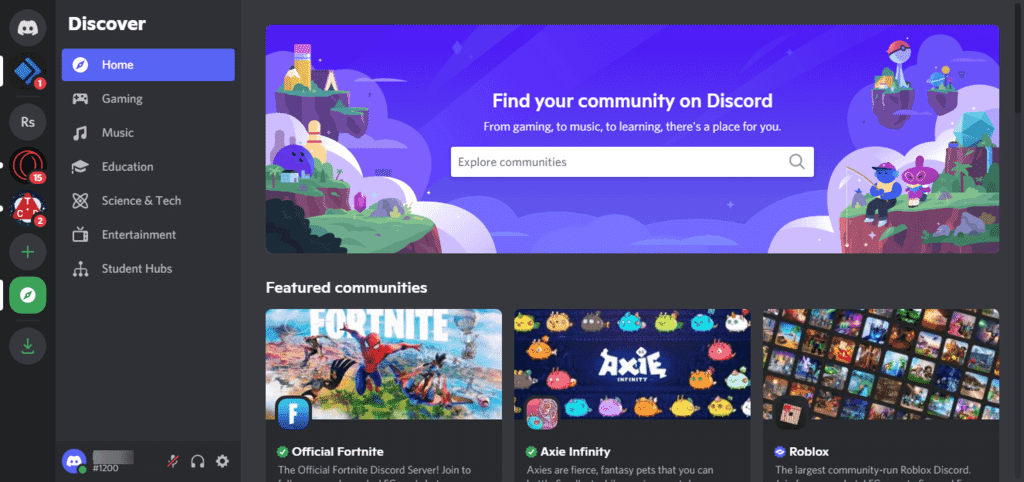 If you don't know about Discord, then let me enlighten you. Discord is an awesome chat app available for Windows, Linux & Mac OS, which makes audio chatting easy & fun through voice channels, video calls, or text chats. It is a great online chat application for gamers. You can watch video games and a lot more. Discord offers customization options, and different servers to suit your needs.
It works on all three platforms – PC, iOS, and Android – so there's no reason not to install it! To get started using Discord go ahead and download their app from Google Play Store if you're using an Android device or from App Store if you are an iPhone user. After that, log in with your username and password.
You can even launch Discord from a link on a website or a desktop shortcut. Navigate your browser to Discord's home page and click Launch App under Discord. A window will pop up, prompting you to install Discord on your computer if it is not already installed. Agree to accept the installation of Discord, and wait for it to finish installing.
Once it has finished installing, click OK. You may need to click Allow for Discord on some browsers to install itself onto your system properly. By default, Discord will open in Windowed mode, so don't worry about anything yet. But first, we want to make sure everything is set up correctly, so let's go ahead and change these settings so that we know they are set correctly before moving forward with everything else.
Why should you use Discord on full screen?
Know what to expect: Before going further with our tutorial, make sure you know how using Full-Screen Mode works. What do I mean by full-screen mode? This way, you won't get caught off guard when something pops up on your screen that needs your attention right away, even though Discord is still active in your monitor.
If you want to enhance your discord experience, for instance, you have a small screen. In that case, you get a little extra screen with this feature.
Pros of Fullscreen
Improved visibility while communicating with other players.
Increase the size of the monitor
Maximize Video Game Performance
Avoid distractions
Cons of Fullscreen
Any notifications which come up on your screen will automatically minimize your program's window.
Hard for multitasking
How to enable & disable full-screen mode on Discord (Web version)
Open Discord on any web browser.
Press F11 to enter fullscreen.
Again press F11 to exit fullscreen.
That's it.
How to enable & disable full screen on Discord (Application version)
In Windows, when you use a full-screen app, it fills your whole computer screen. Your taskbar stays open at the bottom of the screen if a window isn't full-screened. You can switch between full-screen apps by tapping the Task View button or pressing Win+Tab. If an app supports multiple windows, tapping this button shows all your open windows in a flyout menu from which you can choose anyone to bring it to the forefront. Follow these steps for using it in the application.
Click on next to your title bar at the top left-hand corner
It brings up a drop-down menu.
In there hover over "View Mode"
Toggle full screen
Press Esc to exit
Additional Tips:
Use your Alt+Tab key combo to switch between applications.
The Escape button is another alternative that you could try out, especially if you do not wish to use both hands at once.
Discord may reduce video game performance depending on what software is currently open simultaneously as Discord.
Make sure you turn off any unnecessary apps to avoid lag and improve your video gaming experience.
Turn Up Notification Volume:
FAQ
How to get Discord out of the full screen
You can use the same method for entering and exiting out of fullscreen
How to get rid of Discord fullscreen bug
It is a temporary bug, restart your computer and application and try again.
Final Thoughts
I hope you like this article about using the full screen on Discord. Because it's much easier to concentrate if you don't see other things on your screen. People often face a lot of trouble when working and using Discord simultaneously. Try for yourself if you like this feature. Furthermore, there are several benefits attached to using this mode in Discord. If you have more issues related to discord refer to their official support forum.
Also, Read: