Performing Disk Cleanup on Windows 10 is affected by releasing drive space when your Windows 10 computer performance slows down. You can learn from the guide on cleaning up a disk easily.
Disk Cleanup is a Windows utility designed to reclaim storage space on your hard drive by removing temporary files, outdated system files, and background processes.
Overview of Disk Cleanup:
The need for Windows 10 disk cleanup arises for the following reasons:
1. Liberating Storage: Over time, your computer accumulates various files, leading to a full disk. This space-hogging data inhibits your ability to store new information. Regularly performing disk cleanup frees up valuable space for additional data storage.
2. Enhancing Performance: When your C drive becomes overcrowded, it results in longer boot times and sluggish application launches. Cleaning up your C drive in Windows 10 creates a more efficient environment for the operating system, ultimately boosting overall system performance.
How to do disk cleanup on a Windows 10 computer?
Disk Cleanup in Windows 10 provides a quick approach to removing unneeded files from your Windows environment. Unlike its predecessors, Windows 10 adds a new Disk Cleanup tool dubbed "System compression." This new feature allows you to compress Windows binaries and application files, thus saving hard disk space—a critical resource when you're nearing storage restrictions. It's worth mentioning that owing to the compression process, accessing compressed files may take a little longer.
Step 1. To open and use Disk Cleanup in Windows 10, you can press the Win+R keys, type cleanmgr in the Run dialog, and press Enter to open it.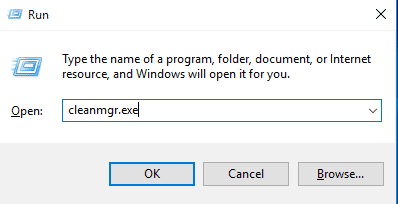 Step 2. Select the partition you want to clean and hit "OK" to proceed.
Step 3. Tick the files to delete in the popup window and hit "OK" to perform the deletion.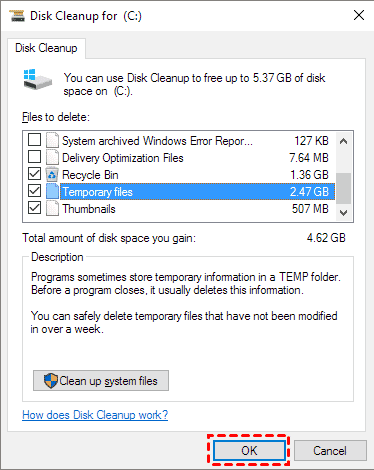 You can also click "Clean up system files" to clean junk files of the system. Just pay more attention to the options you choose, don't mistakenly delete important OS files.
Besides Disk Cleanup, users can also choose to set storage sense to clean temp files and empty recycle bin. Open the start menu and go to "Settings" > "System" > "Storage". Toggle on the storage button, then click on "Configure Storage Sense or run it now".
In the setup box, you may specify whether Storage Sense should run every day, every week, or every month. You may also clean up right now by clicking the "Clean now" button.
Best disk cleanup tool in Windows—Deeply clean disks and OS
If you're not happy with the amount of free space released by the previous techniques, you can turn to a free PC cleaner called AOMEI Partition Assistant Standard to assist you in getting a lot more space after doing Windows 10 disk cleanup. This program works with Windows 11, 10, 8, 7, XP, and Vista. It can scan your disks and OS to filter unneeded files and allow users to decide whether the files can be removed or not.
Also, as a flexible and practical disk manager, AOMEI software has a plethora of useful tools to assist you in cleaning up your drives. For example, the Wipe hard drive function allows you to completely clean the disk by deleting all data in only a few clicks to receive a fresh storage disk, but the App Mover tool allows you to relocate installed apps or personal files to another drive to free up space on the original drive.
Step 1. Launch AOMEI Partition Assistant Standard, and you can click "Free up" on the top bar to find "PC Cleaner".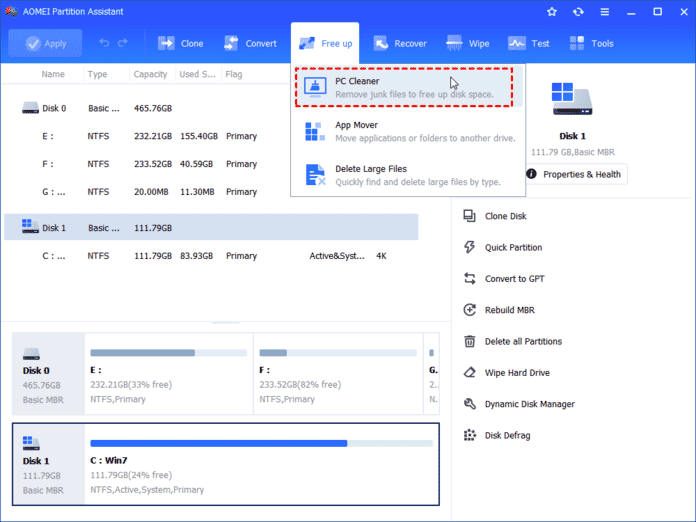 Step 2. Select "Start Scan" in the pop-up window.
Step 3. Wait patiently until the process completes.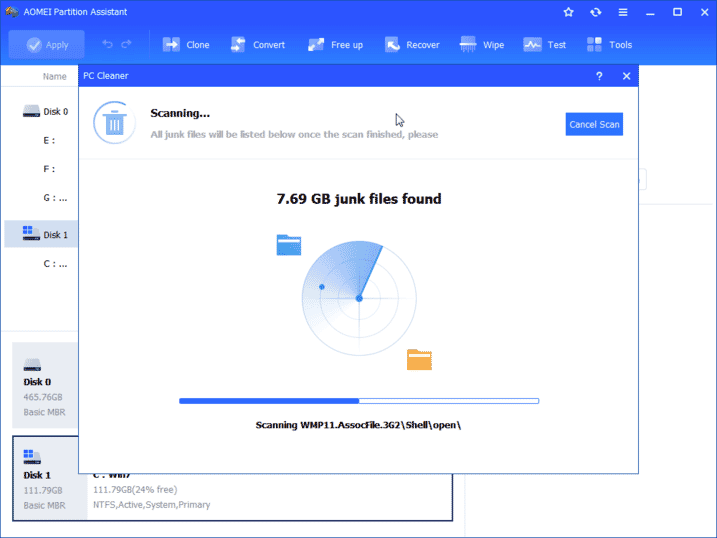 Step 4. When it ends, you can see the sorted junk files. Tick the options and then select "Clean All" to clean your PC.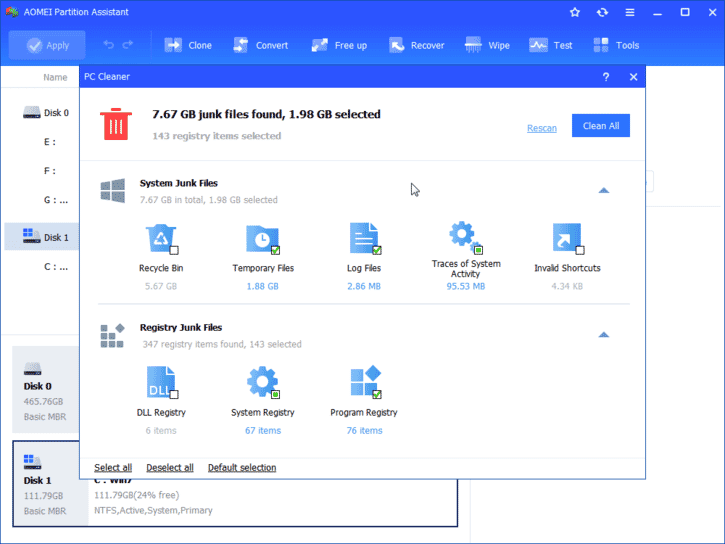 Step 5. All the process is done when you see the icon. Click "Back" and you can enjoy a clean computer now.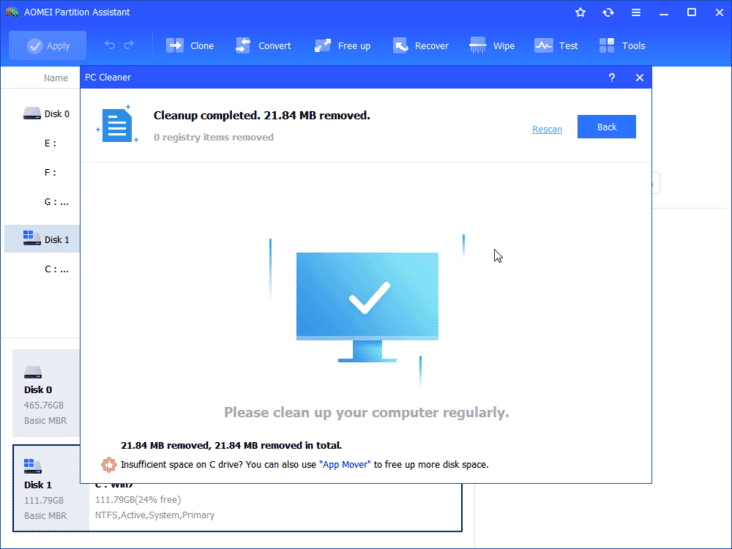 After reading this tutorial, you will understand how to execute Disk Cleanup in Windows 10 and how to clear up disk space. Cleaning up using a sophisticated disk cleanup program can save you time and effort by determining whether or not the files can be erased.
As a better choice, AOMEI Partition Assistant as a windows 10 migration tool also can provide more ways to help you clean up disk more easily and safely to get much available space, You can explore more functions from our products page.
Also Read: