Efficient and easy management of information and data migration is key, so cloud services are often used. Cloud services are used by many companies and freelancers because of their various advantages.
1. First of all, cloud services allow you to perform a series of tasks such as logging in to the system and checking emails anytime and anywhere as long as you have access to the Internet. The data is stored on the internet, not your device, so you don't have to depend on location or device.
2. The second is that by storing necessary materials and other data in the cloud, information can be easily shared. You can also share data with others on the Internet, thus increasing your productivity.
3. Third, cloud data can be safely stored. Since it is stored in the cloud, even if a device such as a computer fails, the data is protected and can be viewed immediately on another device.
In this way, cloud services come in handy in people's daily life. Now, except for IT companies, many companies are turning to cloud storage because of the efficiency of data storage and file synchronization. Cloud services are very important if you want efficiency.
There is a Cloud-to-Cloud Sync Need Here
Some people may use more than one cloud storage service due to their work relationship. However, if you have multiple clouds, files can become disjointed and cluttered.
File management is troublesome because it cannot be synchronized: If the clouds are separated, then cloud-to-cloud sync is impossible. If you want to transfer the necessary files to another cloud, you must first import them to your computer and then download them to the cloud, which takes a lot of time and effort.
You can't find the files you need: If you manage multiple cloud storage accounts, you can run into trouble because you don't know which cloud contains the files you need. Since you have to check the clouds one by one, you may lose a lot of time.
Having multiple clouds can be convenient, but it can also be a disadvantage if not managed properly. Therefore, cloud-to-cloud synchronization is an essential part for both personal and business users.
Why should you use services like MultCloud?
As a professional cloud-to-cloud synchronization tool, MultCloud can perform two-way or one-way sync between any two of your cloud accounts in real time. It does not just sync – it's the most advanced cloud-to-cloud sync on the market:
MultCloud sync is real-time. This means that when you modify a document, those changes are replicated immediately – with no delay.
MultCloud sync is bidirectional: This means files can be changed on two cloud accounts and MultCloud will make sure those cloud accounts are in sync.
Syncing and integrating your cloud accounts via MultCloud has the following benefits over other cloud-to-cloud sync tools:
MultCloud greatly simplifies collaboration, because MultCloud's real-time sync can sync data between multiple cloud accounts such as Dropbox, Dropbox Business, Google Drive, Google Workspace, Google Photos, iCloud Photos, OneDrive, SharePoint Online, OneDrive for Business, MEGA, Flickr, Box, Box for Business, pCloud, Amazon S3, Wasabi, etc.
MultCloud will protect your business from cloud service outages. All your data will be stored in multiple cloud accounts for file recovery or failover.
MultCloud will consolidate cloud storage in the cloud as you can sync and integrate all your cloud accounts into one central cloud account.
How to Do Cloud Sync with MultCloud
So, how to accomplish cloud-to-cloud sync with MultCloud? This article takes syncing Google Drive and Dropbox as an example.
Step 1. Create a MultCloud account for free and log in. If you already have a MultCloud account, you can click "Log in" directly.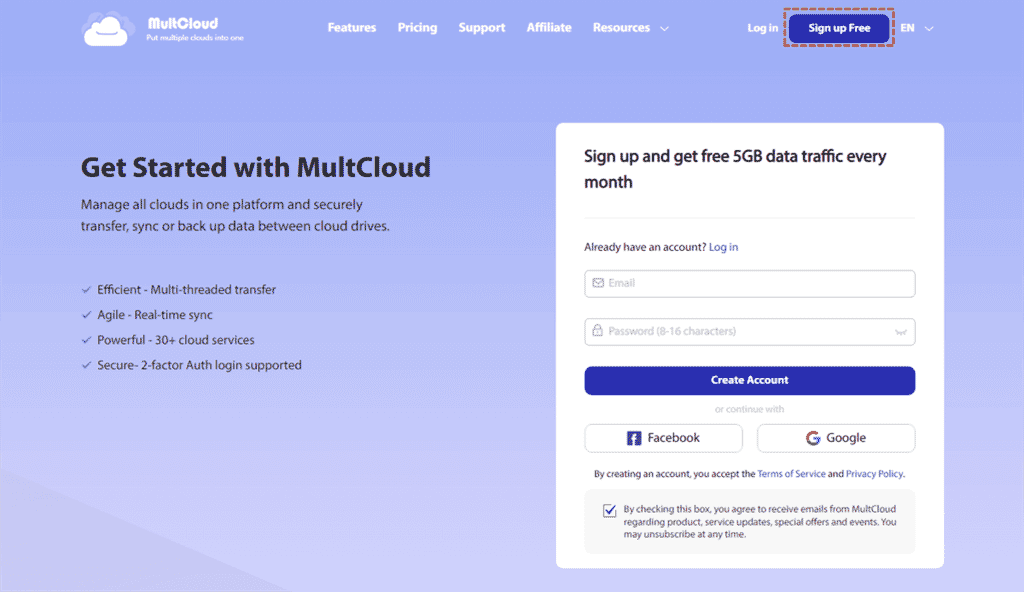 Step 2. Add a Google Drive account in MultCloud. Then, add a Dropbox account in MultCloud.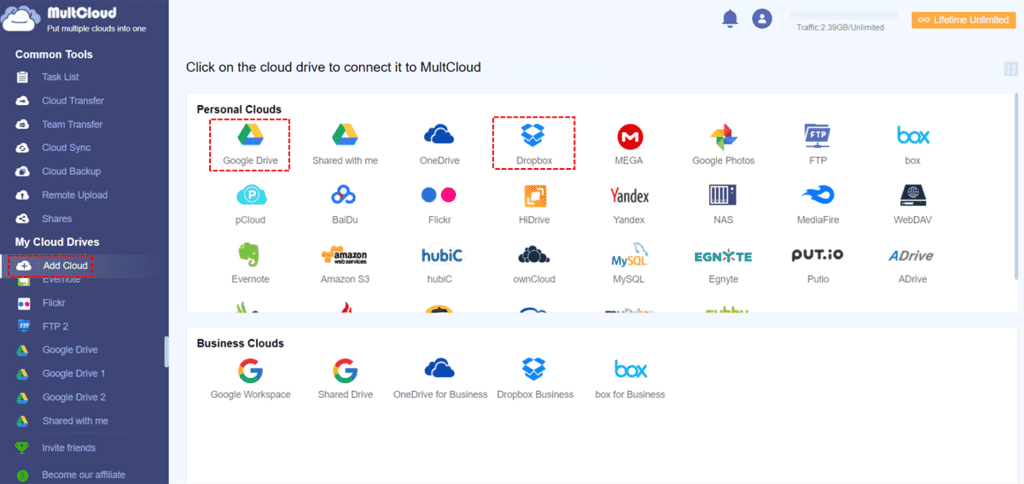 Step 3. Sync Google Drive to Dropbox using Cloud Sync. Click the "FROM" interface to add Google Drive as the source, and click the "TO" interface to add Dropbox as the destination. Then, click "Sync Now" to submit the sync task.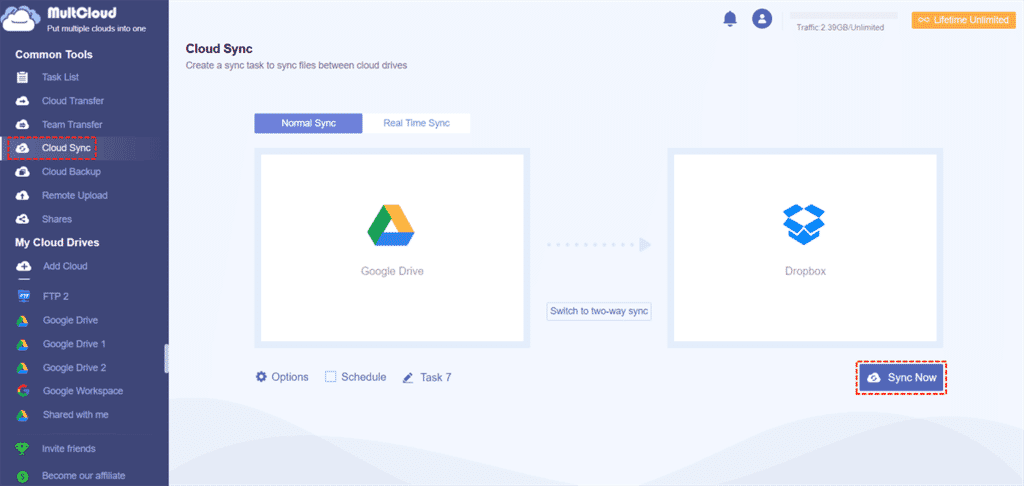 Before the sync task is enabled, you can set the time in the "Schedule" to allow MultCloud to automatically run the synchronization task. After the sync process is complete, you can click on "Task List" to manage your sync tasks.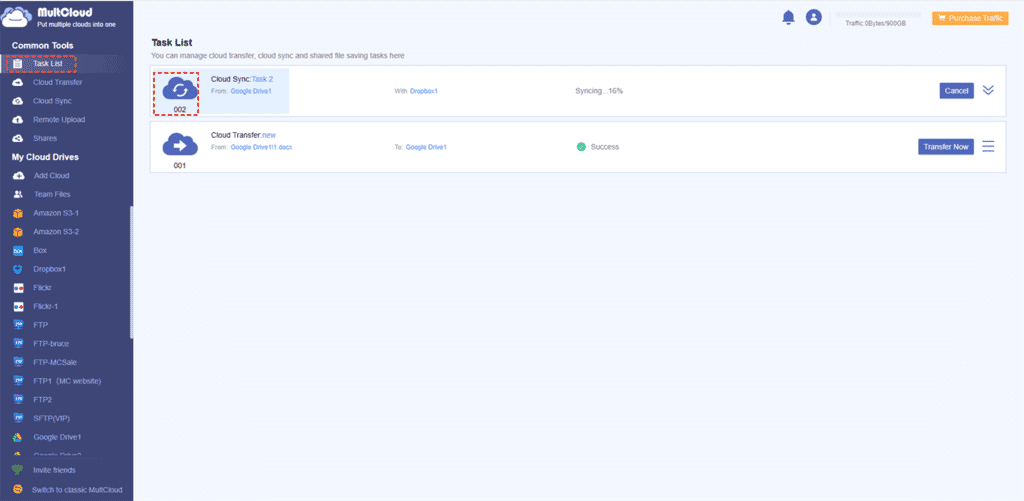 Summary
How do you feel after reading this? Now there are various cloud services, and all data is buried in cloud services. To find the data you're looking for, you'll have to log in frequently. With MultCloud, you can manage them centrally and it's very easy to do. You can specify the cloud as a destination and source and sync everything with a single click on the cloud.
In addition, as a professional cloud file manager, MultCloud can also provide you with:
Efficient Collaboration: MultCloud brings all your cloud accounts together in one place for efficient and easy collaboration.
Cloud Manager: MultCloud allows you to centrally manage all your cloud data.
Transfer Files: With just one click, you can easily move data from one account to another, such as from Google Drive to S3.
Secure File Sharing: Share data securely with password protection for an additional layer of security.
Full-Text Search: MultCloud lets you search content across all clouds and find files quickly.
Also, Read:
How Social Media Boosts Your Online Sales?
How to Create New Layer From Selection in Gimp
Advantages And Disadvantages of HTML You Should Know
How does Web Design Affect SEO?- All You Need To Know.
WordPress Page Not Found After Publish? Easy Fix
Webpage Is Currently Unable To Handle This Request. HTTP error 500 Fix